Retired Dogs
Retired Wiseachers Dogs
This page is dedicated to all of the dogs that we have loved and that have made our breeding program what it is today. I will try to put them in order of retirement from oldest to newest so you can see the progression of our dogs. This page does not include the dogs lost to Brucellosis in 2008. If you are interested in that story, please go to the In Memory page.
Steins Little Bud Lite
Buddy
This is the little boy that started it all. Steins Little Bud Lite stood 13.5" tall and was the love of my life. Thank you to Kathy Ploen for introducing us to this wonderful breed and allowing Buddy to come to our home. Buddy sired many puppies in his lifetime, as well as coming along on lots of horse show runs and other trips. We lost Buddy at 15 in 2012. He is missed every day.

Steins Irish Rylie Blue

Rylie
Rylie was our second Mini Aussie. She stool approximately 14" tall and was a very sweet girl. She gave us many beautiful puppies, but by age 6 she was ready to retire and have a new wonderful life. She found that in Maine with Joyce and her husband. They loved and cared for her for the rest of her life, which sadly came to an end in 2016.

Steins Jersey Girl
Jersey
Jersey was our third Mini Aussie. She stood about 14.5" and was a beautiful red merle with one blue eye. Jersey never saw a ball or frisbee she wouldn't chase and loved to play with all the dogs. She was my heart dog, but unfortunately, after being spayed, she still contracted brucellosis and was lost to us in 2008. She will be forever missed.

Steins Blu Knight
Blu
Blu was out of the same litter as Steins Baileys Irish Cream, who we lost to Brucellosis. He was a good stud and produced many very nice puppies. He was also a sweet boy who was retired to a family with a special needs child that loves him beyond words. We are always so happy when our retired dogs can go on to provide love to another family.

Wiseachers Mighty Mongo
Mongo
Mongo is from a Jersey x Buddy litter. He was very loved by my son so went to live there for a bit. He sired one litter for us, and then we decided that he needed a home of his own. Mongo went to live with Dee, his wife, and little girl. He is the only dog we have that has his own car (dad had a sports car, so had to get one for Mongo LOL). Mongo still lives happily on the east coast.

Wiseachers Captain Jack
Jack
Jack was a beautiful boy that we used as a stud a few times before selling him. One of those big mistakes! He was a Jersey x Buddy baby and fulfilled all that I could have hoped for out of our program. We have lost touch with is owners, so if anyone happens to know where he is, we would love to know.

Steins Smoke N Ashes
Ashes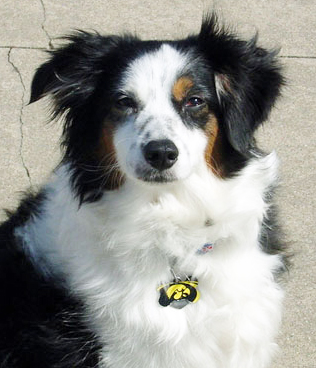 We purchased Ashes and her sister from a breeder in California. After getting them home, her sister wasn't of breed quality so was sold to a wonderful home. Ashes went to live with the Krambeer family as a foster dog and provided many beautiful litters for us. Ashes is retired to her foster family.

Wiseachers Lady Of Grace
Grace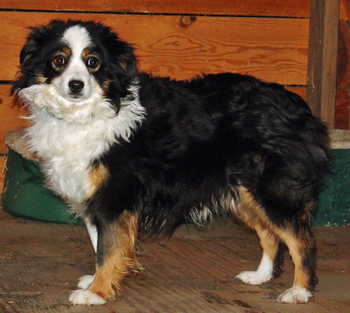 Grace came from the same dam as our stud Luke. She was a wonderful, compact dog that threw that same look in all her puppies, as well as the soulful eyes. She was my constant shadow, so when she retired it was very important we find a good match for her. It took a long time, and we were very patient, but eventually, a wonderful man came by. He sat on the ground and waited for her, for a long time. She finally made the move to introduce herself. We kept in touch quite often at first, as if she didn't adapt, she would come back. She learned to love "her" man and is retired to a farm.

Saddleback Crash and Burn
Crash
Crash was purchased from Saddleback Mini Aussies in Susanville, CA. We drove out to pick him out, and he traveled back with us. The name came from the fact that he would "crash" in his crate whenever we put him in there. He was a big boy, standing at 18". He produced a number of very nice litters for us, but a family came by, with 7 kids and 2 fenced acres that fell in love with him. He was more than happy to go home with them!

Rocking W Sadie
Sadie
Sadie was purchased from another breeder and was in a bad situation. We bred her a number of times, and she produced very nice puppies, but always seemed sad. With the help of a friend, we found her a wonderful forever home.

Nolands Little Bit Bailey
Bailey
We purchased Bailey as an adult after losing all our dogs to brucellosis. She gave us a number of beautiful litters and then was retired to Maine with Joyce and our other dog Rylie. She is still loved and doing just fine!

Herd About Troublemaker
Trouble
We purchased Trouble as an adult from the same breeder as Bailey and Dusty. I have to say she was the best mom we ever had. Whelped by herself easily and loved her puppies. What she didn't love was being one dog among many. With a heavy heart, we retired her but found a wonderful family that now also has Macy.

Wiseachers Dusty Rose
Dusty
Dusty is one of Bailey's puppies and they came to us together. She is a terrific little girl and had beautiful puppies. Two of them are our stud Hoss and his brother who we lost at 8 months, Chance. Although we loved her, a family called who's dog had passed, and they were heartbroken. We felt Dusty would be a good match for them, and so she has been.

Wiseachers Lil Joe
Joey
Joey is a Trouble x Crash baby and turned out to be a very nice boy. We bred him a couple of times, but since we had Cappy we decided to find him his forever home.

Arrow B Macy
Macy
Macy came from Arrow B Mini Aussies and is a very nice square built dog. She had beautiful puppies with her big soulful eyes. Macy was retired in 2015 to the same wonderful home as Trouble.

Wiseachers Miss Marley
Marley
Marley was purchased from Shade Tree Aussies in Oklahoma. She is a gorgeous stout girl that gave us beautiful puppies. Marley was retired to her foster family in 2016.

Wiseachers Captain Ron
Cappy


Cappy replaced our males lost in 2008 and is a wonderful 13.5" black tri. He is a lover who just wants in your lap. Cappy was retired to Krambeers with Ashes in 2016. We miss his silly face but know he is really happy to have so many furry brothers and sisters as well as three little girls to call his own.

Wiseachers Kodi
Kodi
Kodi was purchased from Lick Run Mini Aussies in 2008. She is the sole survivor of the Brucellosis outbreak in 2008 and is retired here.

TNB Wiseachers I Love Lucy
Lucy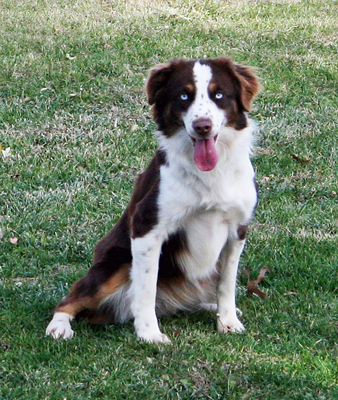 Lucy is a beautiful blue eyed red tri. She is the dam of our Belle and has a brand new home in California where she is the queen bee.